Collaboration
&

Conflict Resolution Consulting
There tends to be an obsession with quick fixes to organizational challenges. To enrich and achieve our strategies, we have to stop focusing on technology and start focusing on getting people to work together.
This type of collaboration will lead to differences in opinion, ideas, and approaches and is normal. It's what we call healthy conflict. When individuals are unable or unwilling, however, to coalesce or shift their thinking for the greater good, unhealthy conflict threatens to derail your plans causing strategic drift and no leader should have to end an otherwise great year on that note.
Through conflict management and coaching strategies, we can help leaders develop strategies that eradicate power struggles and dissension to achieve strategic intent and successful collaborative efforts.
Call us if you:
Need an experienced facilitator to lead an important collaborative effort.
Have teams that are derailed by interpersonal conflict.
Want leaders to learn conflict management and resolution strategies.
Would like leaders to learn how to apply basic conflict coaching techniques.
Benefits of Working With Pam
Setting the goals that you really want; the goals that are critical for your personal, professional and business development will empower you to take action in better; smarter trajectories.
Confidence to work through conflict, scrutiny and other challenges that face today's leaders.
Make better decisions for yourself, find greater satisfaction as an employee and/or business leader because your focus is clear
Your company will benefit from a more focused, resourceful and results-driven professional and business leader
You will be more effective, feel greater value to the company, and tap into your creativity
Access to tools, templates, checklists, assessments, models, and strategies that enhance professional and business success.
Leadership Development
&

Training Solutions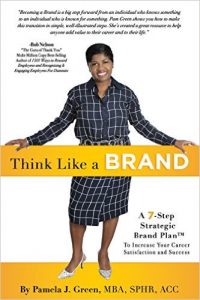 Think Like a Brand
A 7-Step Strategic Brand Plan To Increase Your Career Satisfaction And Success
Kindle & Paperback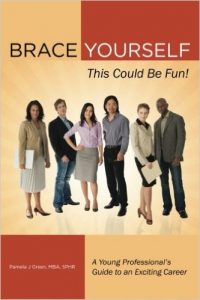 Brace Yourself, This Could Be Fun
A Young Professional's Guide to an Exciting Career
Kindle and Paperback
The 6 C's of Collaboration
6 BUSINESS/GLOBAL RECERTIFICATION CREDITS.
Pamela guides you through the importance of being a collaborative HR leader in your organization.
Two-day coaching clinics for leaders
A Better Way to Lead
Our two-day certificate program helps HR and Non-HR leaders reduce chaos, inspire others, guide change, and manage conflict through a carefully designed leadership coach training program. Walk away with the skills necessary to help others improved focus, enhance communication and achieve organizational goals.
This is for you if you are:
Interested in learning basic leadership coaching skills.
Looking to redirect a struggling team.
Want leaders to learn strategies that help staff regain clear focus.
Seeking to learn effective conflict coaching skills.
Executive Coaching
Executive Coaching is professional coaching with a focus on developing your leadership skills — the skills needed to drive change, manage complexity, conflict, build high performing teams, and maintain a strong personal foundation to thrive under pressure and sometimes scrutiny.
Executive Assimilation Coaching is a coaching process designed to help executives who are either new to an organization or have been promoted through the ranks to effectively integrate their knowledge, expertise, and capabilities into their new leadership role, and blend seamlessly into the business culture.
It also involves the engagement of the executive's direct reports and other key stakeholders. This results in a reinforced circle of support for the leader to strengthen communication, build relationships, and resolve potential derailing behaviors.
Read More about Executive Coaching and Executive Assimilation Coaching.
Executive Coaching
"Success seems to be connected with action. Successful people keep moving. They make mistakes, but they don't quit." — Conrad Hilton Bobak