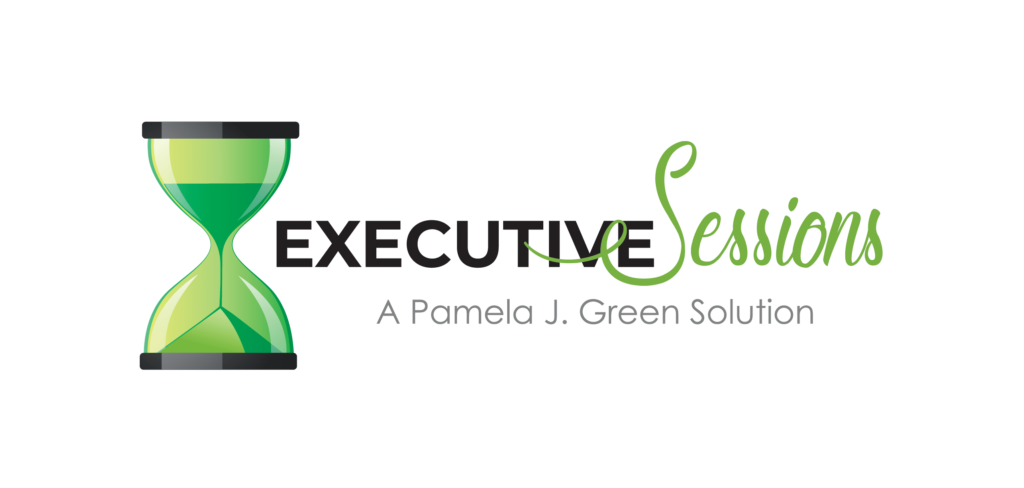 Executive sessions are closed confidential meetings which allow the senior most leaders of an organization, such as its executives and board of directors, the space to address topics or situations of a very sensitive nature. In like manner, our executive sessions are designed to extend to you the same courtesies. Pam and her team have created a closed confidential space that will allow you to share your challenges and obtain executive insights, coaching and development to address your most pressing leadership issues.
Only executive-minded leaders seeking strategic insight into leadership dilemmas should join these closed sessions. The setting is safe, relaxed and a lot personal. There will be four in-person half-day sessions and four virtual experiences on topics that range from how to demonstrate leadership presence and successfully conveying your thoughts and ideas to working through individual and team conflict.
Each session is designed to help you learn, share and obtain the needed coaching to secure your development as an executive and organizational leader. Come prepared to be challenged and to sharpen your leadership skills. Plus, you may be able to earn valuable recertification credit and a certificate of completion for each program you attend.
Columbus OH - Registration deadline Mar 19

Washington DC - Registration deadline Mar 12

Los Angeles CA - Registration deadline Mar 5

1/2 Day | Price includes all materials, virtual programs, and meals
April: Executive Session – Monthly Zoom Chat – Tuesday at 2pm EST – April 9
Navigating The Neuroscience of Crazy
Executive Training Session
Columbus OH - March 26 (Registration deadline Mar 19)

Washington, DC - March 12 (Registration deadline Mar 5)

Los Angeles, CA - March 19 (Registration deadline Mar 12)

1/2 Day | Price includes all materials, virtual programs, and meals
April: Executive Session – Monthly Zoom Chat – Tuesday at 2pm EST – April 9
Developing Strategic
Presence
Executive Training Session
Columbus OH - May 7 (Registration deadline Apr 30)

Washington, DC - May 14 (Registration deadline May 6)

Los Angeles, CA - May 21 (Registration deadline May 13)

1/2 Day | Price includes all materials, virtual programs, and meals
April: Executive Session – Monthly Zoom Chat – Tuesday at 2pm EST – April 9
Step Up to Scrutiny and Become
a Leader of Influence
Executive Training Session
Los Angeles, CA - July 9 (Registration deadline Jul 1)

Columbus, OH - July 23 (Registration deadline Jul 15)

Washington, DC - July 30 (Registration deadline Jul 22)

1/2 Day | Price includes all materials, virtual programs, and meals
September: Executive Session – Monthly Zoom Chat- Tuesdays at 2pm EST – September 10
Developing A Culture of
Innovation and Creativity
Executive Training Session
Los Angeles CA - September 24 (Registration deadline Sep 16)

Columbus OH - October 8 (Registration deadline Oct 1)

Washington, DC - October 22 (Registration deadline Oct 14)

1/2 Day | Price includes all materials, virtual programs, and meals
November: Executive Session – Monthly Zoom Chat- Tuesdays at 2pm EST – Nov 5